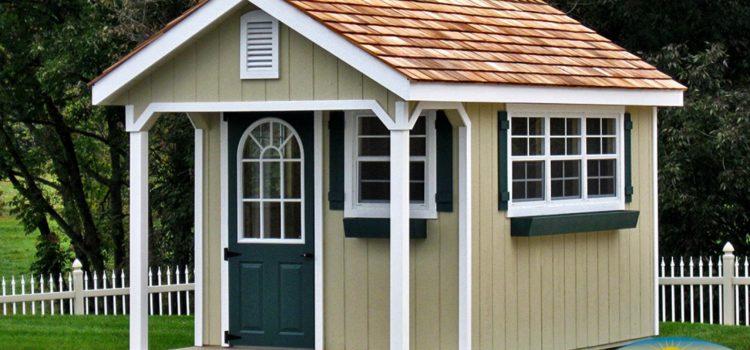 There are a wide range of backyard storage sheds to choose from, but which are the best outdoor sheds worth investing in? Which will...

There are a wide range of backyard storage sheds to choose from, but which are the best outdoor sheds worth investing in? Which will continue to look great in 5-10 years?
Choosing the best outdoor storage shed for your needs may seem difficult at first. They are made from all sorts of materials and some are better than others.
If you're tired of cluttering your yard, garage, or basement with supplies or tools that you only use outside, a storage shed could be the ideal addition to your backyard. I have broken down a few of the best options to meet your backyard storage needs. Lets take a look at the best Best Outdoor Storage Options.
Shed: Suncast Tremont Shed
These are large outdoor sheds, and the 8 X 10 foot version provides a lot of storage. One thing about having such a large structure in your back yard is that you don't want an unsightly shed. Here, the Suncast BMS range rises to the occasion. It has a classic look and won't look out of place in any yard. While looks may be important, practicality and durability are equally, if not more important. In this regard, I'm solidly in favor of this outdoor shed range.
The Suncast has a steel reinforced double wall resin construction. This makes it incredibly sturdy and highly durable. If you're concerned about rain and snow, this shed will hold its own in all weather. The shingle style metal reinforced roof panels are excellent and are going to stand the test of time. This is an important thing to look at. You want your shed to last and remain looking good for years to come. This design will most certainly do just that.
Storage Tent: The YardStash IV Storage Shed Tent
Part shed, part tent, this one requires little commitment. Not only is it relatively inexpensive, it's also easy to set up (10 minutes or less, no tools required), move and store. Made of tough vinyl tarpaulin with a patented snow-shedding roof design, it's tough enough to withstand weather of all sorts, but it's also lightweight and extremely versatile compared to other metal or wooden sheds.
It's great for storing bikes, tools, lawnmowers, toys and more, and it also includes a carrying bag, so you can take it on the go or store it easily when it's not in use. It's big enough to hold a considerable amount of stuff (74″ x 32″ x 68″), but it can also fit in small spaces. If you're looking for temporary storage from time to time or don't want the commitment of a more permanent shed, this one may just be right for you
Life Time Storage Sheds
Lifetime's 12.5′ x 8′ Polyethylene Outdoor Storage Shed in Sand is an attractive and durable storage option. This Shed comes with two shelves, a tool pouch, a storage pouch, and six wall hooks. This will allow you to customize the storage to your specific needs. Built with steel reinforced walls, shelves, and roof provide durability for many weather conditions. Lifetime Storage Sheds allow you sturdy storage solutions for your outdoor storage needs, and a padlockable latch on the doors offers security
Steel Sheds: Arlington Steel Outdoor Storage Shed
Arlington Steel Shed has an attractive, high gable-style roof and a 62 in. wall height makes the Arlington a perfect place to store lawn tools, garden equipment and other seasonal items. A baked-on enamel finish assures a quality storage solution year after year.
Portable Units : PODS
Portable On Demand Storage, more commonly known as PODS, is one of the most well-known companies in the moving container and storage industry. Prominence aside, PODS has the most variety in its container options—allowing you to choose the container that best fits your yard best. While these are designed for movine and temporary use, there are options for permanent placements.
Garden Sheds: Horizon Structures
Garden sheds and tool sheds make excellent potting and storage sheds for the avid gardener. In addition to its attractive appearance, these garden potting sheds offer many practical elements such as a built-in workbench and lots of windows. A garden shed is the ideal place for starting tender seedlings and nurturing plants with ample space left over for storing your gardening tools and equipment.
Garden storage sheds and tool sheds are available in many different exterior and roof/trim color combinations. Vinyl and wood siding are both available. There are options to  match your new garden shed to your home, or other buildings on your property.