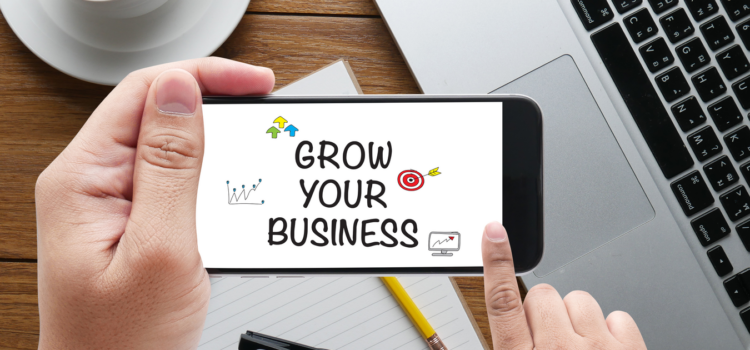 Successfully growing your business in a global pandemic is challenging. However, some of the most impressive businesses, inventions and innovations were born in times...

Successfully growing your business in a global pandemic is challenging. However, some of the most impressive businesses, inventions and innovations were born in times of distress and hardship. 
We've put together a guide to help you chart a course for customer growth through adhering to strategies and tactics applied to the customer journey to engage with your business. 
Attracting and retaining new customers is much different today versus the days of taking out an ad in the local newspaper and hoping for the best. Today, business owners of all sizes across all markets need creative marketing strategies to compete in the current, dynamic market.  
In a time of uncertainty, two things remain the same: 
Consumer expectations remain high:  You must deliver a product or service that is efficient, has timely and courteous customer service, provides transparency, and creates a 1:1 relationship with the customer.
Winning at the "basics" is key to success. 
Achieving this may sound daunting, but with a healthy appreciation of the five stages of the customer journey and the key marketing actions within each, success is more than achievable. We've outlined the five stages and key marketing actions below. 
Your marketing plan must address each phase of the customer Journey
1st: Discovery– how consumers discover your product  
Achieved through:  Online lists social media & search engine optimization 
2nd:  Validation: how consumers validate why you are the best choice 
Achieved with: Education via blogs, online guides and live chat
3rd: Conversion- helping consumers make the purchase and gaining the right insights
Achieved by: Customer relationship management (CRM)
4th: Retention- maximizing the post-purchase experience 
Tools used: Email marketing and data analysis 
5th: Loyalty-Retaining customers and turning them into advocates 
Key Tactic: Influencer marketing 
To further define: the customer lifecycle is a term that describes the different steps a customer goes through when they are considering, buying, using, and remaining loyal to a particular product or service. 
This lifecycle has been broken down into five distinct stages: reach, acquisition, conversion, retention, and loyalty.
1. Discovery
This is when a customer begins searching for a product or service.  It is said that discovery most often begins online.  This is when customers compare products across competitor brands, as well as research  customer reviews, ratings and articles. Eventually, the customer will reach out to a certain brand with questions and concerns.  When your marketing materials and content are in the "right places" this will make you more discoverable and help potential consumers become aware of you. 
Ways to Improve your discoverability: 
Local Listings
There are three major online local listings you should be represented on. Firstly, and most importantly, there's Google Places. You want to show up on Google searches, and you want to be included in online listings, so you need to be registered on Google Places. This is doubly important if your business is a retailer or a restaurant.vThe other online listings are Yahoo! Local and Bing's online listing. All three of these online listing services are free, and they're a great way to get your business out there. Consider getting your online presence up and running through these services.
Social Media: If you are not engaging on social media, now is the time. There's no two ways about this: either your Facebook, Instagram  and Twitter accounts need to be on point or you're leaving money on the table. Social has replaced many forms of traditional marketing (e.g., newspaper advertising) and helping many companies achieve great success.  If you are debating hiring a social manager or agency, it is worth the investment.  
B2B MUST:  Make sure your company LinkedIn profile is professional and clear.  Have all employees update their personal profiles with the same brand message. 
Search Engine Optimization
Search engine optimization, or SEO, is a process of making your website's pages easier to find in search engine results. This involves using specific keywords and repeating the keywords in headers, titles and meta descriptions. A web developer, site designer or some similar type of professional would be ideal to tap in this sort of marketing push.
Consider hiring a freelance web designer to make sure your business has a webpage that is ideal for search engine optimization. They'll be able to go in and make your site look great, and make it more searchable on sites like Google.
2. Education
This is when and how a brand "responds" to "inquiries" from the potential customer, as well as inquire for more information on the customer's needs. Following that, the brand will offer the best products or services to satisfy the customer's needs, as well as educate the customer on the uses of those products or services.   Responding comes in many forms and businesses are smart to offer multiple response styles (e.g., online materials, live chat, easily accessible customer service phone lines or email). 
Online materials: For example, if a customer is exploring new sneakers a running company would be wise to provide a product comparison chart addressing typical runner demands – tread, ankle support, width, etc. 
Live chat:  Zendesk offers real-time out reach – reach out and talk to customers before they even ask a question. Innovative clothing rental company Le Tote uses an automated trigger to offer help to customers who are lingering on the checkout page. By proactively engaging customers during the buying process, Le Tote is able to reduce cart abandonment and increase conversions.
Accessible customer service: Sometimes "picking up the phone" is the easiest way to confirm your questions. Business with clear contact information and smart, well trained customer support ready to help will have better odds at winning the customer, building loyalty and gaining advocates. 
Services like Ruby help make this possible, even if you are a 1-man show: 
Ruby is a 100% US – based virtual receptionists business service specializing in making the most out of every customer conversation. They understand that when clients call, it's important, urgent, or both and offer  daytime and after-hours call support, helping put customers  at ease, taking  down messages and information, and answering questions. Ruby's got you covered 24 hours a day with live coverage. They can direct calls to you, your staff or take messages at any time everyday of the year. 
Blogs
Another great way to support the education phase is a blog, it also helps drive SEO and your google rating.  Things that a blog could cover are quite varied and could depend on your business's specifics. For instance, if your business is a restaurant, your blog could cover recipes, specials, events and news relating to the restaurant. Whatever makes your business tick, that's what you should blog about.

3. Purchase

Wohoo!!!  You won them over, they have all the information necessary and make the big purchase or commitment.   Congratulations, your marketing efforts to attract them worked!  Now the fun begins, it's time to keep them, encourage repeat purchases and turn them into brand advocates.   This is more easily achieved when you have the right tools integrated into your purchase platform, so that when they make the purchase you gather the key information from the get-go. Thankfully, many ecommerce and POS systems offer CRM (Customer Relationship Management)  solutions or have an open API system to allow for integration. 
A great example of a CRM tool provider is bridg.com. Bridg helps gain rich insights into your entire customer base (known and unknown), segment and create optimized audiences, and drive direct revenue generation through targeted personalized marketing with closed loop measurement.  
4. Post-Purchase Engagement (phase II of your marketing strategy)
This is when you begin building a lasting relationship with your customer. Great ways to engage are email followup asking for feedback on the customer service experience, their level of happiness with the brand and/or if they would be willing to follow you  on social media. This information can also help you improve your product, service or gain insights on more needs.  You should also plan to follow-up in the next 30-60 days to introduce a new product or additional service. 
ENGAGEMENT TIP: Take a look at your customer orders to see if certain products pair well together and create your own "Regularly bought together" or "Customers who purchases, also liked" 
Email Marketing
Email marketing allows you to email your customers directly when they're on a mailing list. You could email them news about new offers and deals, or coupons for hot new items. You could also email them to keep them abreast of news relating to your business, potentially increasing customer engagement with your brand.
5. Retention & Advocacy 
Retention begins when the customer is happy with their first purchase or engagement, feels good about their purchase and feels as though that you took care of them or listened to their feedback. The customer feels like an important asset to the brand and makes additional future purchases with the brand.
From a local popcorn shop to a venture backed technology advocacy is one of the best forms of marketing.  This is the stage of the relationship, where the customer feels fully vested with your product or service and even if there is no need for them to make an immediate secondary purchase, they are happy to recommend your business to their friends, family and colleagues. Spreading awareness amongst social circles is easy to do once a customer is loyal to a brand, and if they continually spread positive recommendations, their extended network is more likely to convert as well.  This was the original form of "influencer" marketing. 
TIP:  Influencer marketing is a hot topic these days, but it simply bowls down to advocacy, which we know is critical.   In the world of social media, "influencers" those who have a large following or are admired for their style or professional experience (think a successful marathoner or photographer), it often requires a financial investment as well as free product/services. If you are not ready to go down the paid path, you can engage your customers and encourage them to share their experience with shopping with you. This might not have the same impact as someone with a huge following, but it does help your brand get in front of more eyes.  

In short, there are a number of ways you can leverage the internet to make your business more recognizable and to increase your business's performance. Really, the biggest mistake you could make is ignoring your online presence. 
There's money to be made: you only need to capitalize on online marketing so you can make it!